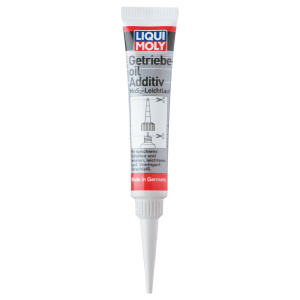 LIQUI MOLY
GETRIEBEÖL-ADDITIV
20 g Tube
£11.07
£553.50 per Kilogram
Product details
GETRIEBEÖL-ADDITIV
Successor to Castrol Magnatec GTX5 SAE 10W-40!
The special molecular structures of Castrol Magnatec are always there when you need, it safely protects against wear*, even during the critical warm-up phase.
Secures protection right after the start, because of its special molecular structure:
Adheres to the surfaces of critical engine parts providing a even better protection against wear.
Provides lasting protection under all driving conditions, even at low outdoor temperatures.
* Proven by the industrial standard test (API Sequence IVA)
Specifications and Approvals
API SL/CF
ACEA A3/B4
VW 501 01/505 00
Mercedes-Benz MB 229.1
Fiat 9.55535.D2
Safety Advice GHS

GHS09:



Signal word:
Warning

Risk Phrases:
H411: Toxic to aquatic life with long lasting effects

EUH208: Contains . May produce an allergic reaction.


Safety Advice:
P273: Avoid release to the environment.
P501: Dispose of contents/container to ...

---
Gebrauchsnummern
1040
14485007
EAN/GTINs

4100420010408



Hinweise zur Altölentsorgung in Deutschland
Unsachgemäße Beseitigung von Altöl gefährdet die Umwelt. Deshalb holen wir Dein gebrauchtes Verbrennungsmotoren- oder Getriebeöl gern kostenlos bei Dir ab.

Unter der Email-Adresse entsorgung@delti.com kannst Du die Abholung des Altöls und der Gebinde anmelden.

Bitte beachte, dass die Rückholmenge nicht die erworbene Menge übersteigen darf und Du dich unter Angabe der Auftragsnummer an uns wenden kannst. Bitte verpacke die Gebinde in einer Umverpackung und verschließe die Kannen sorgfältig, so dass ein Ölaustritt ausgeschlossen ist.

Die Rückgabe von Altöl ist grundsätzlich auch an Tankstellen oder bei Wertstoffannahmestellen (z.B. Recyclinghof; evtl. gegen eine Gebühr) möglich. Ob Deine örtliche Wertstoffannahmestelle Altöl annimmt, erfährst Du in der Regel vor Ort oder bei der zuständigen Gemeindeauskunft.

Dieser Hinweis und die Regelungen gelten entsprechend auch für Ölfilter und für beim Ölwechsel regelmäßig anfallende ölhaltige Abfälle.