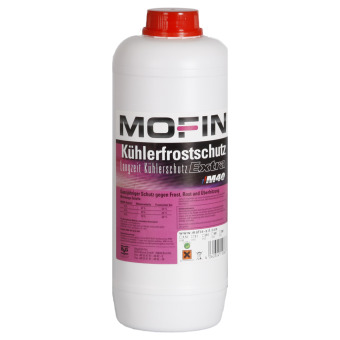 MOFIN
Kühlerfrostschutz M40 Extra
1.5 l Can
£5.91 per Liter
5 l Canister
£3.75 per Liter
Product details
Kühlerfrostschutz M40 Extra
MOFIN radiator antifreeze M40 – suitable for vehicles requiring a cooling agent according to specification G40.
Long-term radiator protection
Premium full concentrate
Cold protection mixture 50 : 50 -37°C
Nitrite, amine, phosphate and borax free
Colour: violet/lilac
Specifications: VW TL 774 G (Audi, Seat, Skoda, VW), MAN Si-OAT, MB-release 325.5  
MOFIN radiator antifreeze M40 is an ethylene glycol-based antifreeze and corrosion protection concentrate for use in engines with or without aluminium alloy.
MOFIN radiator antifreeze M40 protects all modern engines, especially high-performance aluminium engines, against freezing, rust, and overheating.
MOFIN M40 meets the following requirements: VW/Audi/Seat/Skoda/Lamborghini/Bentley/Bugatti TL 774-G Release for MAN 324 type SI-OAT, MB 325.5
Mixture table:
| | | |
| --- | --- | --- |
| Antifreeze up to ca. | Antifreeze portion | Water portion |
| - 18° C | 33% | 67% |
| - 38° C | 50% | 50% |
MOFIN M40 can be stored for at least 3 years at temperatures up to 30°C in the unopened, airtight packaging.
MOFIN M40 has a safety information sheet according to EC directive 91/155/EWG.
MOFIN radiator antifreeze M40 is a radiator antifreeze concentrate which can be mixed with normal tap water. The concentration of the radiator antifreeze should not be below 35%, since otherwise the corrosion protection additives are too diluted.
Miscibility of MOFIN M40
Since the special advantages of using MOFIN M40 such as improved aluminium protection and long change intervals only work with the exclusive usage of MOFIN M40, mixture with other antifreezes is not recommended.
MOFIN M40 is compatible with conventional silicate-free and silicate containing antifreezes.
MOFIN M40 should be mixed with water* at a concentration of 33 to 50% vol. before being poured into the cooling circuit.
* When preparing the coolant, clean and not overly hard water must be used. The following are not suitable: mine water, seawater, brackish water, salt water and industrial waste water.
The analysis values of the water may not exceed the following limit values:
Water hardness: 0 to 20 °dGH ( 0 – 3,6 mmol/l )
Chloride content: max. 100 ppm
Sulfate content: max. 100 ppm
If the analysis values of the water exceed the acceptable limit values, it should be treated in an appropriate way, e.g. by mixing with soft, distilled or demineralised (FD) water. A high chloride or sulfate content can be reduced easily in this way.
Safety Advice GHS

GHS07:

GHS08:



Signal word:
Warning

Risk Phrases:
H302: Harmful if swallowed
H373: May cause damage to organs ( state all organs affected, if known) through prolonged or repeated exposure (state route of exposure if it is conclusively proven that no other routes of exposure cause the hazard)


Safety Advice:
P260: Do not breathe dust/fume/gas/mist/vapours/spray.
P264: Wash ... thoroughly after handling.
P270: Do not eat, drink or smoke when using this product.
P301+P312: IF SWALLOWED: Call a POISON CENTRE/doctor/… if you feel unwell.
P314: Get medical advice/attention if you feel unwell.
P501: Dispose of contents/container to ...

---
Gebrauchsnummern
0150
0151
14813596
14813597
Field of operation
Car
EAN/GTINs

4260348790025




4260304110867



Hinweise zur Altölentsorgung in Deutschland
Unsachgemäße Beseitigung von Altöl gefährdet die Umwelt. Deshalb holen wir Dein gebrauchtes Verbrennungsmotoren- oder Getriebeöl gern kostenlos bei Dir ab.

Unter der Email-Adresse entsorgung@delti.com kannst Du die Abholung des Altöls und der Gebinde anmelden.

Bitte beachte, dass die Rückholmenge nicht die erworbene Menge übersteigen darf und Du dich unter Angabe der Auftragsnummer an uns wenden kannst. Bitte verpacke die Gebinde in einer Umverpackung und verschließe die Kannen sorgfältig, so dass ein Ölaustritt ausgeschlossen ist.

Die Rückgabe von Altöl ist grundsätzlich auch an Tankstellen oder bei Wertstoffannahmestellen (z.B. Recyclinghof; evtl. gegen eine Gebühr) möglich. Ob Deine örtliche Wertstoffannahmestelle Altöl annimmt, erfährst Du in der Regel vor Ort oder bei der zuständigen Gemeindeauskunft.

Dieser Hinweis und die Regelungen gelten entsprechend auch für Ölfilter und für beim Ölwechsel regelmäßig anfallende ölhaltige Abfälle.