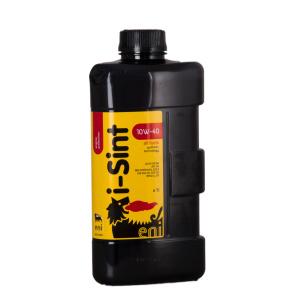 4 l Canister
£5.42 per Liter
Product details
i-Sint 10W-40
eni i-Sint 10 W-40 - Successor of the Agip SINT 2000 10W-40 is synthetic high performance engine oil with low friction properties for a year-round lubrication of petrol and diesel engines cars.
Quality features:
eni i-Sint 10W-40 is a enginnered high-quality low-friction synthetic engine oil for year-round lubrication of the latest technically designed petrol and diesel engines. The specialized synthetic adhesive components form a lubricating film which ensures a optimum wear protection and easy engine start even after a long service length of the engine.
eni i-Sint 10W-40 results in fuel savings by up to 2% when compared to conventional multi-grade oils due to its excellent properties, while being compatible with all common materials uses in engine construction.
Applications:
eni i-Sint 10 W-40 is a high quality, turbo-tested low friction engine oil for modern, high performance car engines equiped with or without a turbocharger.This oil meets the requirements of many manufacturers and provides a high safety margin, even with extended oil change intervals, as long as they are autharized.
eni i-Sint 10W-40 meets the following specifications and approvals:
ACEA A3/ B4
API SM/CF
MB 229.3
VW 502 00/505 00
---
Gebrauchsnummern
102491
102492
15446379
15446380
Field of operation
Car
Release
ACEA A3
ACEA B4
API SN
BMW LL 01
MB 229.3
VW 502.00
VW 505.00
Viscosity
10W-40
Characteristics
Synthetic
EAN/GTINs

8003699008335




8003699008342



Hinweise zur Altölentsorgung in Deutschland
Unsachgemäße Beseitigung von Altöl gefährdet die Umwelt. Deshalb holen wir Dein gebrauchtes Verbrennungsmotoren- oder Getriebeöl gern kostenlos bei Dir ab.

Unter der Email-Adresse entsorgung@delti.com kannst Du die Abholung des Altöls und der Gebinde anmelden.

Bitte beachte, dass die Rückholmenge nicht die erworbene Menge übersteigen darf und Du dich unter Angabe der Auftragsnummer an uns wenden kannst. Bitte verpacke die Gebinde in einer Umverpackung und verschließe die Kannen sorgfältig, so dass ein Ölaustritt ausgeschlossen ist.

Die Rückgabe von Altöl ist grundsätzlich auch an Tankstellen oder bei Wertstoffannahmestellen (z.B. Recyclinghof; evtl. gegen eine Gebühr) möglich. Ob Deine örtliche Wertstoffannahmestelle Altöl annimmt, erfährst Du in der Regel vor Ort oder bei der zuständigen Gemeindeauskunft.

Dieser Hinweis und die Regelungen gelten entsprechend auch für Ölfilter und für beim Ölwechsel regelmäßig anfallende ölhaltige Abfälle.