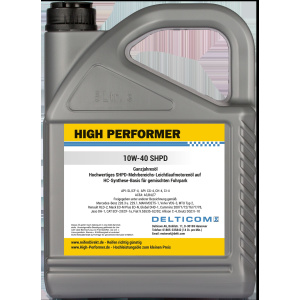 HIGH PERFORMER
10W-40 SHPD
Product details
10W-40 SHPD
High Performer SAE 10W-40 SHPD Full-Year Oil (HC-Synthetic), is a universal low-viscosity motor oil, made partially from HC base oils for all otto and diesel engines, with or without turbo charging in car, truck, city buses and agricultural vehicles. The partial use of HC-synthesis base oil and modern hi-tech additives give this motor oil and exceedingly high performance level.

Specifications:
API: SL/CF-4; CG-4; CH-4; CI-4;

ACEA: A3-02/B3-02/B4-02/E3-02/E5-02

ACEA: A3-04/B3-04/B4-04/ E7 - 04

Approved under a different name for:

Mercedes Benz: 229.1 + 228.3

Renault RVI RLD-2

MAN M3275

Mack EOM

MTU Type 2

Global DHD-1

VOLVO VDS-3

Cummins 20076/7/8

ZF TE-ML 07C/04C

VW 505.00

SCANIA Long Drain

High Performer SAE 10W-40 SHPD (HC-Synthetic) is great across the year, whatever the weather. It guarantees a reduced cold start wear, offers protection when driving at full speed in summer, and doesn't lose its lubricity even at high oil temperatures. It reduced the fuel usage by a few percent lowers the exhaust particulates in diesel engines compared to conventional SAE 15W-40 motor oils.

All additives used are perfectly tailored to each other. This motor oil unites the following properties:

The extraordinarily high detergent properties nearly exclude the formation of impurities in the combustion chamber.

Prevents the formation of deposits, lak and sludge (black sludge) on the cylinders, pistons, valves; spark plugs and turbo loaders.

The formation of cold sludge and impurities on the engine and the sump are also prevented thanks to the excellent dispersant properties.

Guarantees an extraordinarily low oil usage, among other things through the low evaporation loss of the HC oil based, synthetically made base oil.

Protects against corrosion, even when using diesel fuel with high sulphur content, which are still available in Eastern Europe.

This motor oil guarantees a flawless function of the hydraulic tappet (hydraulic valve adjuster)

Does not attack sealing materials and can be mixes with all brand oils.
---
Gebrauchsnummern
15683701
202132
Field of operation
Bus
Heavy commercial vehicles
Light commercial vehicles
Machinery
Release
ACEA A3-02
ACEA B3-02
ACEA B4-02
ACEA E3-02
ACEA E5-02
API CF-4
API CG-4
API CH-4
API CI-4
API SL
Cummins 20076/7/8
Global DHD-1
MAN M3275
MB 228.3
MB 229.1
MTU Type 2
Mack EOM
Renault RVI RLD-2
Scania Long Drain
Volvo VDS-3
ZF TE-ML 04C
ZF TE-ML 07C
Viscosity
10W-40
Characteristics
All-season oil
Low-viscosity oil
Hinweise zur Altölentsorgung in Deutschland
Unsachgemäße Beseitigung von Altöl gefährdet die Umwelt. Deshalb holen wir Dein gebrauchtes Verbrennungsmotoren- oder Getriebeöl gern kostenlos bei Dir ab.

Unter der Email-Adresse entsorgung@delti.com kannst Du die Abholung des Altöls und der Gebinde anmelden.

Bitte beachte, dass die Rückholmenge nicht die erworbene Menge übersteigen darf und Du dich unter Angabe der Auftragsnummer an uns wenden kannst. Bitte verpacke die Gebinde in einer Umverpackung und verschließe die Kannen sorgfältig, so dass ein Ölaustritt ausgeschlossen ist.

Die Rückgabe von Altöl ist grundsätzlich auch an Tankstellen oder bei Wertstoffannahmestellen (z.B. Recyclinghof; evtl. gegen eine Gebühr) möglich. Ob Deine örtliche Wertstoffannahmestelle Altöl annimmt, erfährst Du in der Regel vor Ort oder bei der zuständigen Gemeindeauskunft.

Dieser Hinweis und die Regelungen gelten entsprechend auch für Ölfilter und für beim Ölwechsel regelmäßig anfallende ölhaltige Abfälle.