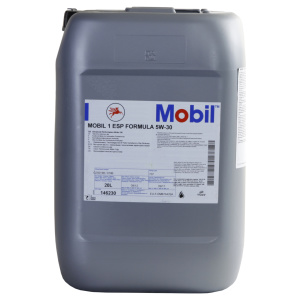 MOBIL
ESP 5W-30
20 l Canister
Product details
ESP 5W-30
Mobil 1 ESP 5W-30
- This high-performance engine oil was developed to preserve the efficacy of the exhaust gas treatment systems of the cars it is used in. As all Mobil 1 products, the Mobil 1 ESP 5W-30 has several strong points, particularly its fantastic performance under extreme conditions and fuel saving potential.
Mobil 1 ESP 5W-30 high-performance engine oil is made with Mobil SHC Synthesis Technology, the world's newest and most innovative lubrication technology.
Advantages in overview:
Developed to make diesel particle filters last longer and preserve their full functionality.
Developed to make fuel catalytic converters last longer and preserve their efficiency.
Developed to maximize oil change intervals in cars.
Great for 4-cycle and diesel engines.
High fuel saving potential.
Extraordinary wear and tear protection properties.
Spreads quickly even at very high and very low temperatures.
Reduced CO2 emissions.
Specifications & Certifications:
ACEA C2/C3


API SM/SN



VW 504 00 / 507 00




Mercedes Benz MB 229.31/229.51/229.52


Volkswagen (Otto- und Dieselmotoren) 504.00 / 507.00


Porsche C30


PSA - Peugeot/Citroën Kraftfahrzeuge B71 2290


decos (Lizenznummer D20281HC015)

---
Gebrauchsnummern
146230
14814318
Field of operation
Car
Release
ACEA C2
ACEA C3
API SJ
API SL
API SM
API SN
MB 229.3
MB 229.5
PSA B71 2290
Porsche C30
VW 504.00
VW 507.00
Viscosity
5W-30
Characteristics
Particulate filter
Series
ESP
EAN/GTINs

5055107424957



Hinweise zur Altölentsorgung in Deutschland
Unsachgemäße Beseitigung von Altöl gefährdet die Umwelt. Deshalb holen wir Dein gebrauchtes Verbrennungsmotoren- oder Getriebeöl gern kostenlos bei Dir ab.

Unter der Email-Adresse entsorgung@delti.com kannst Du die Abholung des Altöls und der Gebinde anmelden.

Bitte beachte, dass die Rückholmenge nicht die erworbene Menge übersteigen darf und Du dich unter Angabe der Auftragsnummer an uns wenden kannst. Bitte verpacke die Gebinde in einer Umverpackung und verschließe die Kannen sorgfältig, so dass ein Ölaustritt ausgeschlossen ist.

Die Rückgabe von Altöl ist grundsätzlich auch an Tankstellen oder bei Wertstoffannahmestellen (z.B. Recyclinghof; evtl. gegen eine Gebühr) möglich. Ob Deine örtliche Wertstoffannahmestelle Altöl annimmt, erfährst Du in der Regel vor Ort oder bei der zuständigen Gemeindeauskunft.

Dieser Hinweis und die Regelungen gelten entsprechend auch für Ölfilter und für beim Ölwechsel regelmäßig anfallende ölhaltige Abfälle.