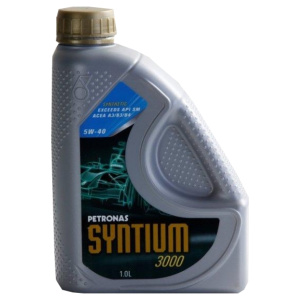 PETRONAS
SYNTIUM 3000 5W-40
Product details
SYNTIUM 3000 5W-40
NEW! Petronas Syntium – also known as the winner of the Formula 1 Grand Prix!
Petronas SYNTIUM 3000 5W-40 is a a high-quality synthetic lubricant, specially developed for the newest gas and diesel engines of any brand and any manufacturer (OEM). Syntium 3000 5W-40 reduces wear and offers excellent protection of the engine parts when used at high temperatures.
SYNTIUM 3000 5W-40 is particularly excellent for common rail engines.
Properties:
The special formula of the Syntium 3000 comes with the following advantages:
Resistance to aging
Protection against wear
Extended service interval (ESI)
Reduced oil usage
Fuel economy
Oil change intervals are according to the manufacturer's specifications and the maintenance indicator.

Specifications and Certifications:
ACEA A3/B3/B4
API SM/CF
VW 502.00-505.00-505.01
BMW LL-01
MB-Approval 229.5
PORSCHE A 40
GM-LL-B-025
---
Gebrauchsnummern
14814390
18151616
Field of operation
Car
Release
ACEA A3
ACEA B3
ACEA B4
API CF
API SM
BMW LL 01
GM-LL-B-025
MB 229.5
Porsche A40
VW 502.00
VW 505.00
Viscosity
5W-40
Characteristics
Synthetic
Series
SYNTIUM
EAN/GTINs

8001238181570



Hinweise zur Altölentsorgung in Deutschland
Unsachgemäße Beseitigung von Altöl gefährdet die Umwelt. Deshalb holen wir Dein gebrauchtes Verbrennungsmotoren- oder Getriebeöl gern kostenlos bei Dir ab.

Unter der Email-Adresse entsorgung@delti.com kannst Du die Abholung des Altöls und der Gebinde anmelden.

Bitte beachte, dass die Rückholmenge nicht die erworbene Menge übersteigen darf und Du dich unter Angabe der Auftragsnummer an uns wenden kannst. Bitte verpacke die Gebinde in einer Umverpackung und verschließe die Kannen sorgfältig, so dass ein Ölaustritt ausgeschlossen ist.

Die Rückgabe von Altöl ist grundsätzlich auch an Tankstellen oder bei Wertstoffannahmestellen (z.B. Recyclinghof; evtl. gegen eine Gebühr) möglich. Ob Deine örtliche Wertstoffannahmestelle Altöl annimmt, erfährst Du in der Regel vor Ort oder bei der zuständigen Gemeindeauskunft.

Dieser Hinweis und die Regelungen gelten entsprechend auch für Ölfilter und für beim Ölwechsel regelmäßig anfallende ölhaltige Abfälle.