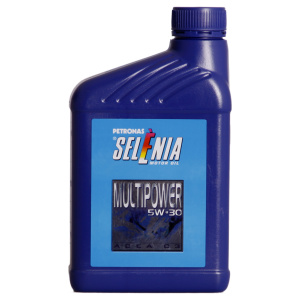 SELENIA
5W-30 C3 Multipower
1 l Can
Product details
5W-30 C3 Multipower
Synthetic high-performance motor oil formulated specially for petrol and diesel engines prescribed by ACEA C3 low-SAPS lubricants for modern catalytic converter and particulate filter systems. This high-quality motor oil meets the demanding manufacture standards of Mercedes-Benz, BMW and Volkswagen for their newest generations of engines.
PROPERTIES
Selenia Multipower C3 guarantees the performance of the particulate filter and prevents the filter from clogging.
Extends the service life of the catalytic converter in a petrol engine
Has the property of "fuel economy" and protects against wear
Fulfils the newest ACEA 3 requirements
USAGE RECOMMENDATIONS
Oil change intervals by manufacturer recommendation or service display.
TECHNICAL DETAILS:
SAE 5W-30, ACEA C3, API SM/CF, BMW LL-04, MB-Approval 229.51,
VW 502.00, VW 505.00, VW 505.01
---
Gebrauchsnummern
11571616
15765958
Field of operation
Car
Release
ACEA C3
API CF
API SM
BMW LL 04
MB 229.51
VW 502.00
VW 505.00
VW 505.01
Viscosity
5W-30
Characteristics
Particulate filter
Synthetic
EAN/GTINs

8001238081221



Hinweise zur Altölentsorgung in Deutschland
Unsachgemäße Beseitigung von Altöl gefährdet die Umwelt. Deshalb holen wir Dein gebrauchtes Verbrennungsmotoren- oder Getriebeöl gern kostenlos bei Dir ab.

Unter der Email-Adresse entsorgung@delti.com kannst Du die Abholung des Altöls und der Gebinde anmelden.

Bitte beachte, dass die Rückholmenge nicht die erworbene Menge übersteigen darf und Du dich unter Angabe der Auftragsnummer an uns wenden kannst. Bitte verpacke die Gebinde in einer Umverpackung und verschließe die Kannen sorgfältig, so dass ein Ölaustritt ausgeschlossen ist.

Die Rückgabe von Altöl ist grundsätzlich auch an Tankstellen oder bei Wertstoffannahmestellen (z.B. Recyclinghof; evtl. gegen eine Gebühr) möglich. Ob Deine örtliche Wertstoffannahmestelle Altöl annimmt, erfährst Du in der Regel vor Ort oder bei der zuständigen Gemeindeauskunft.

Dieser Hinweis und die Regelungen gelten entsprechend auch für Ölfilter und für beim Ölwechsel regelmäßig anfallende ölhaltige Abfälle.