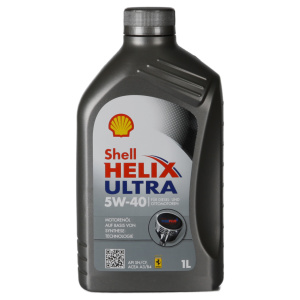 SHELL
Helix Ultra 5W-40
1 l Can
Product details
Helix Ultra 5W-40
Shell Helix Ultra 5W-40
– Maximum hygiene and perfect protection for your motor
Shell Helix Ultra is the synthetic-technology motor oil with the know-how of the collaboration with the multiple Formula 1 champion Ferrari.
Shell Helix Ultra has an extraordinary cleaning potential, with remarkable long-term stability through the active cleaning formula. It also offers excellent protection against wear. The cleansing of the engine starts immediately after the oil change to Shell Helix Ultra. Stubborn, harmful impurities, which formed through oxidation and thermal changes, are dissolved and held in suspension finely distributed. Shell Helix Ultra prevents the formation of new deposits. The engine runs more smoothly, the responsiveness grows, its full performance unfolds.

The low viscosity allows an excellent cold cranking behaviour and high fuel economy. High-performance additive system. To achieve maximum performance, Shell Helix Ultra uses the best patented additive packs.

Approvals and Specifications

Exceeds:
ACEA A3/B3/B4

API SM/CF

Manufacturer approvals:

MB-Freigabe 229.5

BMW Longlife-01

VW 502 00/505 00

Renault RN700, RN710

Porsche A40

Fulfils Fiat 9.55535-Z2

Ferrari

Fulfils PSA E-98 requirements
---
Gebrauchsnummern
14814627
550040753
Field of operation
Car
Release
ACEA A3
ACEA B3
ACEA B4
API CF
API SN
BMW LL 01
Ferrari
Fiat 9.55535-Z2
MB 226.5
MB 229.5
PSA B71 2296
Porsche A40
Renault RN 0700
Renault RN 0710
VW 502.00
VW 505.00
Viscosity
5W-40
Characteristics
Synthetic
Series
Helix Ultra
EAN/GTINs

5011987140530



Hinweise zur Altölentsorgung in Deutschland
Unsachgemäße Beseitigung von Altöl gefährdet die Umwelt. Deshalb holen wir Dein gebrauchtes Verbrennungsmotoren- oder Getriebeöl gern kostenlos bei Dir ab.

Unter der Email-Adresse entsorgung@delti.com kannst Du die Abholung des Altöls und der Gebinde anmelden.

Bitte beachte, dass die Rückholmenge nicht die erworbene Menge übersteigen darf und Du dich unter Angabe der Auftragsnummer an uns wenden kannst. Bitte verpacke die Gebinde in einer Umverpackung und verschließe die Kannen sorgfältig, so dass ein Ölaustritt ausgeschlossen ist.

Die Rückgabe von Altöl ist grundsätzlich auch an Tankstellen oder bei Wertstoffannahmestellen (z.B. Recyclinghof; evtl. gegen eine Gebühr) möglich. Ob Deine örtliche Wertstoffannahmestelle Altöl annimmt, erfährst Du in der Regel vor Ort oder bei der zuständigen Gemeindeauskunft.

Dieser Hinweis und die Regelungen gelten entsprechend auch für Ölfilter und für beim Ölwechsel regelmäßig anfallende ölhaltige Abfälle.