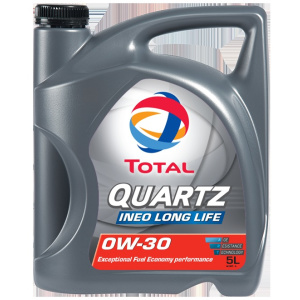 TOTAL
QUARTZ INEO L LIFE 0W-30
5 l Can
Product details
QUARTZ INEO L LIFE 0W-30
TOTAL QUARTZ INEO LONG LIFE 0W-30 with ART is synthetic technology engine oil specially formulated to meet the severest ACEA standards and technical requirements of vehicle manufacturers. It ensures outstanding wear protection, strong durability and exceptional fuel economy performance whilst maintaining efficiency of emission systems in latest diesel and petrol engines of European vehicles requiring SAE 0W-30 viscosity grade. TOTAL QUARTZ INEO LONG LIFE 0W-30 is specifically recommended for use in VW group vehicles that require a VW 504.00/507.00 specification lubricant.
Safety Advice GHS

Risk Phrases:
H304: May be fatal if swallowed and enters airways
H317: May cause an allergic skin reaction
H373: May cause damage to organs ( state all organs affected, if known) through prolonged or repeated exposure (state route of exposure if it is conclusively proven that no other routes of exposure cause the hazard)
H413: May cause long lasting harmful effects to aquatic life



---
Gebrauchsnummern
15922396
206717
Field of operation
Car
Viscosity
0W-30
Series
QUARTZ INEO L LIFE
EAN/GTINs

3425901093130



Hinweise zur Altölentsorgung in Deutschland
Unsachgemäße Beseitigung von Altöl gefährdet die Umwelt. Deshalb holen wir Dein gebrauchtes Verbrennungsmotoren- oder Getriebeöl gern kostenlos bei Dir ab.

Unter der Email-Adresse entsorgung@delti.com kannst Du die Abholung des Altöls und der Gebinde anmelden.

Bitte beachte, dass die Rückholmenge nicht die erworbene Menge übersteigen darf und Du dich unter Angabe der Auftragsnummer an uns wenden kannst. Bitte verpacke die Gebinde in einer Umverpackung und verschließe die Kannen sorgfältig, so dass ein Ölaustritt ausgeschlossen ist.

Die Rückgabe von Altöl ist grundsätzlich auch an Tankstellen oder bei Wertstoffannahmestellen (z.B. Recyclinghof; evtl. gegen eine Gebühr) möglich. Ob Deine örtliche Wertstoffannahmestelle Altöl annimmt, erfährst Du in der Regel vor Ort oder bei der zuständigen Gemeindeauskunft.

Dieser Hinweis und die Regelungen gelten entsprechend auch für Ölfilter und für beim Ölwechsel regelmäßig anfallende ölhaltige Abfälle.