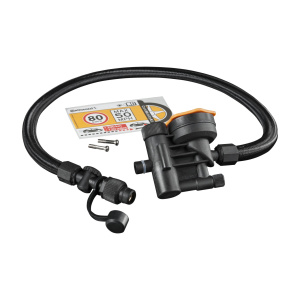 CONTINENTAL
Replacement hose for the tire sealant kit "ContiMobilityKit"
1 Piece Paket
Product details
Replacement hose for the tire sealant kit "ContiMobilityKit"
Replacement hose for the tire sealant kit "ContiMobilityKit" - Spare part for the ContiMobilityKit: the exchange hose.
Stay pumped – all along the journey.
Replacement product of original equipment quality "Engineered in Germany"
Simple exchange (screwdriver required)
After usage of the ContiMobilityKit, the hose needs to be replaced due to residue of sealant in the hose.
50 cm hose including bottle connection for the ContiMobilityKit sealant bottle
Exchange manual
Plastic gloves
Speed warning label
Small plastic bag with screws
The product is only compatible with all compressors of the ContiMobilityKit whose ten-digit bar code starts with a "5"
---
Gebrauchsnummern
15382110
17120760000
Field of operation
Car
EAN/GTINs

4019238770360



Hinweise zur Altölentsorgung in Deutschland
Unsachgemäße Beseitigung von Altöl gefährdet die Umwelt. Deshalb holen wir Dein gebrauchtes Verbrennungsmotoren- oder Getriebeöl gern kostenlos bei Dir ab.

Unter der Email-Adresse entsorgung@delti.com kannst Du die Abholung des Altöls und der Gebinde anmelden.

Bitte beachte, dass die Rückholmenge nicht die erworbene Menge übersteigen darf und Du dich unter Angabe der Auftragsnummer an uns wenden kannst. Bitte verpacke die Gebinde in einer Umverpackung und verschließe die Kannen sorgfältig, so dass ein Ölaustritt ausgeschlossen ist.

Die Rückgabe von Altöl ist grundsätzlich auch an Tankstellen oder bei Wertstoffannahmestellen (z.B. Recyclinghof; evtl. gegen eine Gebühr) möglich. Ob Deine örtliche Wertstoffannahmestelle Altöl annimmt, erfährst Du in der Regel vor Ort oder bei der zuständigen Gemeindeauskunft.

Dieser Hinweis und die Regelungen gelten entsprechend auch für Ölfilter und für beim Ölwechsel regelmäßig anfallende ölhaltige Abfälle.