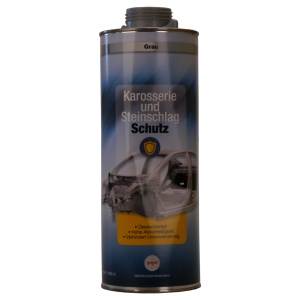 FERTAN
OVER 4 SPG Karosserie-u.Steinschlagschutz grau Normdose
1 l Bottle
Product details
OVER 4 SPG Karosserie-u.Steinschlagschutz grau Normdose
OVER 4 ist ein Karosserieschutz / Steinschlagschutz in schwarz (SPS) und grauer Farbe (SPG). Durch Veränderungen des Verarbeitungsdruckes, kann es sowohl glatt wie auch mit Struktur gespritzt werden und ist überlackierbar. Das Produkt härtet sehr gut aus und ist ein hervorragender Schutz für alle Bereiche an Kraftfahrzeugen, welche besonderen Beanspruchungen ausgesetzt sind. Durch komplexierende Harzverbindungen optimale Haftung an Karosserie-Flächen.
Safety Advice GHS

GHS02:

GHS07:

GHS08:



Signal word:
Danger

Risk Phrases:
H225: Highly flammable liquid and vapour
H315: Causes skin irritation
H317: May cause an allergic skin reaction
H361d: Suspected of damaging the unborn child.
H373: May cause damage to organs ( state all organs affected, if known) through prolonged or repeated exposure (state route of exposure if it is conclusively proven that no other routes of exposure cause the hazard)
H336: May cause drowsiness or dizziness
H412: Harmful to aquatic life with long lasting effects


Safety Advice:
P210: Keep away from heat, hot surfaces, sparks, open flames and other ignition sources. No smoking.
P260: Do not breathe dust/fume/gas/mist/vapours/spray.
P271: Use only outdoors or in a well-ventilated area.
P280: Wear protective gloves/protective clothing/eye protection/face protection.
P312: Call a POISON CENTRE/doctor/… if you feel unwell.

---
Gebrauchsnummern
15435165
25201
EAN/GTINs

4027092252014



Hinweise zur Altölentsorgung in Deutschland
Unsachgemäße Beseitigung von Altöl gefährdet die Umwelt. Deshalb holen wir Dein gebrauchtes Verbrennungsmotoren- oder Getriebeöl gern kostenlos bei Dir ab.

Unter der Email-Adresse entsorgung@delti.com kannst Du die Abholung des Altöls und der Gebinde anmelden.

Bitte beachte, dass die Rückholmenge nicht die erworbene Menge übersteigen darf und Du dich unter Angabe der Auftragsnummer an uns wenden kannst. Bitte verpacke die Gebinde in einer Umverpackung und verschließe die Kannen sorgfältig, so dass ein Ölaustritt ausgeschlossen ist.

Die Rückgabe von Altöl ist grundsätzlich auch an Tankstellen oder bei Wertstoffannahmestellen (z.B. Recyclinghof; evtl. gegen eine Gebühr) möglich. Ob Deine örtliche Wertstoffannahmestelle Altöl annimmt, erfährst Du in der Regel vor Ort oder bei der zuständigen Gemeindeauskunft.

Dieser Hinweis und die Regelungen gelten entsprechend auch für Ölfilter und für beim Ölwechsel regelmäßig anfallende ölhaltige Abfälle.