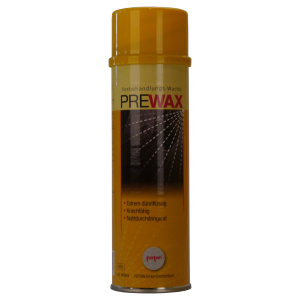 FERTAN
PRE WAX Vorbehandlungs- Wachs Spray mit Sonde
500 mL Spray can
Product details
PRE WAX Vorbehandlungs- Wachs Spray mit Sonde
PREWAX is a specially developed pre-treatment wax for auto bodies.  It is applied in order to protect metal seams that have previously been treated using FERTAN Rust Converter.  PREWAX leaves a fine, extremely stable wax layer that penetrates into crevices. An addtionaly final coat of Underbody Protection Wax UBS 220 should be applied to underbodies, and cavities, sills, etc. should receive a final coating of HT Cavity Protection Wax.  

PREWAX's penetrating power insures that even overlapping sheets of metal and compounds are well protected at their welds and seams.  The product can also be sprayed on to metal as a final protective coating, leaving behind a very thin but stable film.  Residues are easily removed with mineral spirits.  

APPLICATION: Spray directly onto folds or metal overlaps from a short distance.  For cavities, sills, etc. use the included 4mm applicator probe to spray directly into the cavity, allowing for slow and complete penetration.  Penetration should be clearly visible at welds and overlaps.  Because of the viscosity of the product, some run-off should be expected.  Cover the floor during application and clean off residue as soon as possible with mineral spirits.
Safety Advice GHS

GHS02:

GHS07:

GHS09:



Signal word:
Danger

Risk Phrases:
H222: Extremely flammable aerosol
H229: Pressurized container: may burst if heated
H315: Causes skin irritation
H336: May cause drowsiness or dizziness
H411: Toxic to aquatic life with long lasting effects


Safety Advice:
P101: If medical advice is needed, have product container or label at hand.
P102: Keep out of reach of children.
P210: Keep away from heat, hot surfaces, sparks, open flames and other ignition sources. No smoking.
P211: Do not spray on an open flame or other ignition source.
P251: Do not pierce or burn, even after use.
P260: Do not breathe dust/fume/gas/mist/vapours/spray.
P271: Use only outdoors or in a well-ventilated area.
P273: Avoid release to the environment.
P280: Wear protective gloves/protective clothing/eye protection/face protection.
P302+P352: IF ON SKIN: Wash with plenty of water/...
P304+P340: IF INHALED: Remove person to fresh air and keep comfortable for breathing.
P403: Store in a well-ventilated place.
P410+P412: Protect from sunlight. Do not expose to temperatures exceeding 50 °C/122 °F.
P501: Dispose of contents/container to ...

---
Gebrauchsnummern
15435160
26201
EAN/GTINs

4027092262013



Hinweise zur Altölentsorgung in Deutschland
Unsachgemäße Beseitigung von Altöl gefährdet die Umwelt. Deshalb holen wir Dein gebrauchtes Verbrennungsmotoren- oder Getriebeöl gern kostenlos bei Dir ab.

Unter der Email-Adresse entsorgung@delti.com kannst Du die Abholung des Altöls und der Gebinde anmelden.

Bitte beachte, dass die Rückholmenge nicht die erworbene Menge übersteigen darf und Du dich unter Angabe der Auftragsnummer an uns wenden kannst. Bitte verpacke die Gebinde in einer Umverpackung und verschließe die Kannen sorgfältig, so dass ein Ölaustritt ausgeschlossen ist.

Die Rückgabe von Altöl ist grundsätzlich auch an Tankstellen oder bei Wertstoffannahmestellen (z.B. Recyclinghof; evtl. gegen eine Gebühr) möglich. Ob Deine örtliche Wertstoffannahmestelle Altöl annimmt, erfährst Du in der Regel vor Ort oder bei der zuständigen Gemeindeauskunft.

Dieser Hinweis und die Regelungen gelten entsprechend auch für Ölfilter und für beim Ölwechsel regelmäßig anfallende ölhaltige Abfälle.