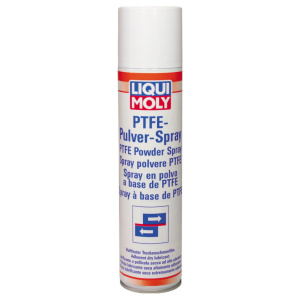 LIQUI MOLY
PTFE-PULVER-SPRAY
400 mL Spray can
Product details
PTFE-PULVER-SPRAY
Mobil Super 3000 Formula X1 5W-40
- The Mobil Super 3000 Series is a series of fuel-efficient engine oils conceived with HC-Synthesis Technology to allow excellent performance and protection for car engine.
Properties and Advantages:
Mobil Super 3000 products will allow your vehicle to perform perfectly, just as you wish it.
Mobil Super 3000 X1 5W-40 offers:
Lower fuel usage, and therefore lower exhaust emissions, thanks to its innovative fuel efficiency.
Excellent protection against wear and tear in day-to-day usage (Stop-and-Go).
Excellent engine hygiene for a many years of top performance.
Excellent protection at low temperatures.
Usage:
The Mobil Super 3000 X1 5W-40 protects you far beyond what conventional motor oils allow and can be used in 4-cycle and diesel engines. We recommend the Mobil Super 3000 X1 5W-40 particularly when your vehicle is exposed to difficult driving conditions, both at short and at long distances.
Almost all engine technologies
Gasoline and Diesel
Passenger cars, SUVs, trucks and minibuses
Highway and urban use
Normal to heavy and demanding driving conditions
Turbochargers and fuel injection engines
High performance engines
Please refer to your vehicle's manual regarding prescribed engine oil viscosity and specifications.
Specifications & Certifications:
API SN/SM/SL/CF
ACEA A3/B3/B4
Opel GM-LL-B-025 X
MB Approval 229.3 X
VW 502 00 / 505 00 X
Porsche A 40 X
Peugeot/Citroën Automobiles B71 2296 X
BMW Longlife 01 X
Renault RN0710, RN0700 X
LADA AvtoVAZ, Group "Luxe"
Safety Advice GHS

GHS07:

GHS02:



Signal word:
Danger

Risk Phrases:
H315: Causes skin irritation
H412: Harmful to aquatic life with long lasting effects
H222: Extremely flammable aerosol
H229: Pressurized container: may burst if heated


Safety Advice:
P101: If medical advice is needed, have product container or label at hand.
P102: Keep out of reach of children.
P210: Keep away from heat, hot surfaces, sparks, open flames and other ignition sources. No smoking.
P211: Do not spray on an open flame or other ignition source.
P251: Do not pierce or burn, even after use.
P280: Wear protective gloves/protective clothing/eye protection/face protection.
P302+P352: IF ON SKIN: Wash with plenty of water/...
P332+P313: If skin irritation occurs: Get medical advice/attention.
P410+P412: Protect from sunlight. Do not expose to temperatures exceeding 50 °C/122 °F.

---
Gebrauchsnummern
14484969
3076
EAN/GTINs

4100420030765



Hinweise zur Altölentsorgung in Deutschland
Unsachgemäße Beseitigung von Altöl gefährdet die Umwelt. Deshalb holen wir Dein gebrauchtes Verbrennungsmotoren- oder Getriebeöl gern kostenlos bei Dir ab.

Unter der Email-Adresse entsorgung@delti.com kannst Du die Abholung des Altöls und der Gebinde anmelden.

Bitte beachte, dass die Rückholmenge nicht die erworbene Menge übersteigen darf und Du dich unter Angabe der Auftragsnummer an uns wenden kannst. Bitte verpacke die Gebinde in einer Umverpackung und verschließe die Kannen sorgfältig, so dass ein Ölaustritt ausgeschlossen ist.

Die Rückgabe von Altöl ist grundsätzlich auch an Tankstellen oder bei Wertstoffannahmestellen (z.B. Recyclinghof; evtl. gegen eine Gebühr) möglich. Ob Deine örtliche Wertstoffannahmestelle Altöl annimmt, erfährst Du in der Regel vor Ort oder bei der zuständigen Gemeindeauskunft.

Dieser Hinweis und die Regelungen gelten entsprechend auch für Ölfilter und für beim Ölwechsel regelmäßig anfallende ölhaltige Abfälle.