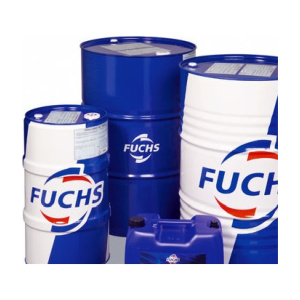 FUCHS
Titan Supergear MC 80W-90
Product details
Titan Supergear MC 80W-90
Super high performance gear oil for extended service intervals based MC-Synthesis mineral oils.
Specifications and Approvals:
API GL-4/GL-5


MAN M 3343 TYP M


ZF TE-ML 02B, 05A, 12E, 16B, 17B, 19B, 21A
Fuchs Recommendations:
CASE MS 1316


FORD M2C197-A


JOHN DEERE JDM J 11 E


NH 520 A


SCANIA STO 1:0


SDFG OP 1705


STEYR B-101


ZF TE-ML 07, 0
---
Gebrauchsnummern
15233266
600632847
Field of operation
Car
Heavy commercial vehicles
Light commercial vehicles
Release
API GL4
API GL5
MAN M3343
ZF TE-ML 02B
ZF TE-ML 05A
ZF TE-ML 12E
ZF TE-ML 16B
ZF TE-ML 17B
ZF TE-ML 19B
ZF TE-ML 21A
Viscosity
85W-90
Characteristics
Synthetic
Hinweise zur Altölentsorgung in Deutschland
Unsachgemäße Beseitigung von Altöl gefährdet die Umwelt. Deshalb holen wir Dein gebrauchtes Verbrennungsmotoren- oder Getriebeöl gern kostenlos bei Dir ab.

Unter der Email-Adresse entsorgung@delti.com kannst Du die Abholung des Altöls und der Gebinde anmelden.

Bitte beachte, dass die Rückholmenge nicht die erworbene Menge übersteigen darf und Du dich unter Angabe der Auftragsnummer an uns wenden kannst. Bitte verpacke die Gebinde in einer Umverpackung und verschließe die Kannen sorgfältig, so dass ein Ölaustritt ausgeschlossen ist.

Die Rückgabe von Altöl ist grundsätzlich auch an Tankstellen oder bei Wertstoffannahmestellen (z.B. Recyclinghof; evtl. gegen eine Gebühr) möglich. Ob Deine örtliche Wertstoffannahmestelle Altöl annimmt, erfährst Du in der Regel vor Ort oder bei der zuständigen Gemeindeauskunft.

Dieser Hinweis und die Regelungen gelten entsprechend auch für Ölfilter und für beim Ölwechsel regelmäßig anfallende ölhaltige Abfälle.