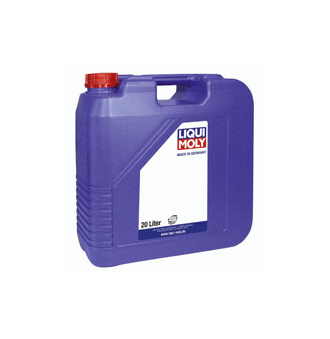 LIQUI MOLY
ÖL STOU 10W-30 Traktor
20 l Canister
Product details
ÖL STOU 10W-30 Traktor
High Performance Mineral Oil. Provides a diverse range of applications. Rationalizes keeping it in inventory by minimizing the danger of mix-ups due to similarity. Prevents the formation of deposits. Ensures e a stable lubricating film even under extreme operating conditions. With excellent wear protection. Ensures the functionality of the units and ensures maximum service-life.
Intended use:

All-season oil. Specially developed for agricultural and forestry vehicles and machinery. Can be universally used in engines, gears, hydraulics, turbo clutches and oil bath brakes (wet brakes).
Approvals:
API CF-4/SF/GL 4
ACEA E2
ZFTE-ML 06B, 07B
Ford M2C-84A, M2C-159 B/C
Mack E0-K, E0-K2
MIL-L 2105
MIL-L 2104D
MIL-L 46152B
Caterpillar TO-2
Allison C4
LIQUI MOLY recommends this product for vehicles that require the following specifications:
John Deere JDM J27; Massey-Ferguson M 1139, M 1144, M 1145; MB 227.1/228.1; Intern. Harvester B6; David Brown; KHD; Fendt; Steyr
Safety Advice GHS

Risk Phrases:
EUH208: Contains . May produce an allergic reaction.
EUH210: Safety data sheet available on request.



---
Gebrauchsnummern
14814844
4722
Field of operation
Forestry vehicles
Tractor
Release
ACEA E2
API CF-4
API GL4
API SF
Allison C-4
CATERPILLAR TO 2
E0-K2
Ford M2C-159 B/C
Ford M2C-84A
MIL-L-2104 D
MIL-L-2105
MIL-L-46152 B
Mack E0-K
ZF TE-ML 06B
ZF TE-ML 07B
Viscosity
10W-30
Characteristics
All-season oil
Mineral
EAN/GTINs

4100420047220



Hinweise zur Altölentsorgung in Deutschland
Unsachgemäße Beseitigung von Altöl gefährdet die Umwelt. Deshalb holen wir Dein gebrauchtes Verbrennungsmotoren- oder Getriebeöl gern kostenlos bei Dir ab.

Unter der Email-Adresse entsorgung@delti.com kannst Du die Abholung des Altöls und der Gebinde anmelden.

Bitte beachte, dass die Rückholmenge nicht die erworbene Menge übersteigen darf und Du dich unter Angabe der Auftragsnummer an uns wenden kannst. Bitte verpacke die Gebinde in einer Umverpackung und verschließe die Kannen sorgfältig, so dass ein Ölaustritt ausgeschlossen ist.

Die Rückgabe von Altöl ist grundsätzlich auch an Tankstellen oder bei Wertstoffannahmestellen (z.B. Recyclinghof; evtl. gegen eine Gebühr) möglich. Ob Deine örtliche Wertstoffannahmestelle Altöl annimmt, erfährst Du in der Regel vor Ort oder bei der zuständigen Gemeindeauskunft.

Dieser Hinweis und die Regelungen gelten entsprechend auch für Ölfilter und für beim Ölwechsel regelmäßig anfallende ölhaltige Abfälle.