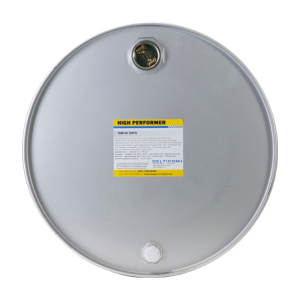 HIGH PERFORMER
10W-40 SHPD Nutzfahrzeug Motoröl
205 l Barrel
Product details
10W-40 SHPD Nutzfahrzeug Motoröl
High Performer SAE 10W-40
is a synthetic high performance diesel motor oil designed to meet the challenges posed by the most extended extended service intervals. High Performer 10W-40 SHPD is a "one size fits all" product that covers a wide range of vehicles, with the exception of those need a low ash content (low-SAPS), such as ACEA E6, MAN 3477 oder MB-FREIGABE 228.51.
Specifications:
Approvals:
CUMMINS CES 20076 / 20077
DEUTZ DQC III-05
MACK EO-M PLUS
MAN 3277
MB-FREIGABE 228.5
MTU TYP-3
SCANIA LDF-2
TEDOM 258-3
VOITH RETARDER KLASSE A
VOLVO VDS-3
High Performer Recommendations:
JASO DH-1
DAF
RENAULT VI RLD-2 / RXD
Advantages:
Excellent protection against "bore glazing"
Very good for keeping the engine clean
Protects against cylinder and camshaft wear
Reduces fuel usage
Prevents the formation of sludge and combustion residues
Recommended for extended service intervals
Spreads quickly when starting the engine at low temperatures
Prevents rust, corrosion and foaming
Reduces
Works with extended service intervals
High wear protection at changing loads
Excellent protection against glazing
Can be used over the entire year
Reduces service costs and down times
---
Gebrauchsnummern
14814434
202135
Field of operation
Bus
Heavy commercial vehicles
Light commercial vehicles
Release
ACEA E4
ACEA E7
API CI-4
Cummins CES 20076
Cummins CES 20077
DAF
Deutz DQC III-05
JASO DH-1
MAN 3277
MB 228.5
MTU Type 3
Mack EO-M Plus
Renault VI RLD-2
Renault VI RXD
Scania LDF - 2
TEDOM 258-3
VOITH RETARDER KLASSE A
Volvo VDS-3
Viscosity
10W-40
Characteristics
Synthetic
EAN/GTINs

4051379514618



Hinweise zur Altölentsorgung in Deutschland
Unsachgemäße Beseitigung von Altöl gefährdet die Umwelt. Deshalb holen wir Dein gebrauchtes Verbrennungsmotoren- oder Getriebeöl gern kostenlos bei Dir ab.

Unter der Email-Adresse entsorgung@delti.com kannst Du die Abholung des Altöls und der Gebinde anmelden.

Bitte beachte, dass die Rückholmenge nicht die erworbene Menge übersteigen darf und Du dich unter Angabe der Auftragsnummer an uns wenden kannst. Bitte verpacke die Gebinde in einer Umverpackung und verschließe die Kannen sorgfältig, so dass ein Ölaustritt ausgeschlossen ist.

Die Rückgabe von Altöl ist grundsätzlich auch an Tankstellen oder bei Wertstoffannahmestellen (z.B. Recyclinghof; evtl. gegen eine Gebühr) möglich. Ob Deine örtliche Wertstoffannahmestelle Altöl annimmt, erfährst Du in der Regel vor Ort oder bei der zuständigen Gemeindeauskunft.

Dieser Hinweis und die Regelungen gelten entsprechend auch für Ölfilter und für beim Ölwechsel regelmäßig anfallende ölhaltige Abfälle.